Wayne Kuna (Visits all groups and helps launch new groups.)
Wayne had a 26 year career in the global toy industry. During that time, he served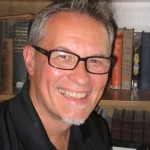 God as a partner at the world's largest toy inventing firm, Marvin Glass and Associates, before opening his own independent toy inventing firm, Wayne Kuna and Associates in Oak Park. He holds over 50 patents and his innovative toy concepts have been sold all over the world. In 1999 Wayne enrolled at The Moody Graduate School where he received his Masters of Arts in Biblical Studies and served as the Men's Chaplain. From 2003-2010 he served as the senior pastor of Oak Community Church in Hinsdale. Wayne also serves periodically as an adjunct professor at The Moody Bible Institute. Wayne served
with The Navigators in Chicago from 2011-2016. During that time he founded Soul Priority which is designed to transform the careers and business by helping men and women to Work in the Light of Jesus. We provide men and women with materials and convenient opportunities to discuss what it means to Work in the Light!
Wayne has been happily married to his wife, Candy, since 1973 and has two adult married children and five grandchildren. Wayne enjoys eating with friends, sailing, bicycling, reading, writing, and growing his relationship with Jesus through regular spiritual practices.
Bob Picha (Elmhurst Group)
Having earned a Bachelor of Science degree in Electrical Engineering from Illinois Institute of Technology in 1976, Bob took an engineering position with Motorola, Inc. Over his 36 year career with Motorola and subsequently Nokia-Siemens Networks, Bob has helped bring first, second, third and fourth generation cellular systems to market through his managerial and technical leadership. Bob also works alongside his wife, Cheryl, in developing an internet marketing business and making real estate investments.
Bob and Cheryl have been married 28 years, have two sons out of college and a daughter currently in college. He has served as a lay leader in the churches his family has attended and has a passion for mentoring young men to become leaders in their families, churches and businesses. He is an avid Bears fan and enjoys boating and water sports.